Bobwellson International Watch Group opens for reservation, the latest model is the top of the year THE NEW LEGENDARY, produced only 99 pieces, this new model will come with an optional sub-Series STEEL & BlackR both come with anchor seal that is a legend of seafaring Take it and place it on the second hand in the middle of the dial. The crown cover is unique to Only Bobwellson🛡 And made a prototype of the case from the older model, Legendary Bronze, which is the brand's most famous legend. Put it in the stainless steel body. and finish the job as well A special technique called Mirror polish. The body will be shiny like a mirror mixed with a matte finish. It is a high-tech special technique with alternating shadows that will give a feeling of luxury to another level. Like a masterpiece sculpture that will rest on your wrist. Limited edition, you can check out the exclusive OFFICIAL TRAILER 🎥 on Youtube Channels👊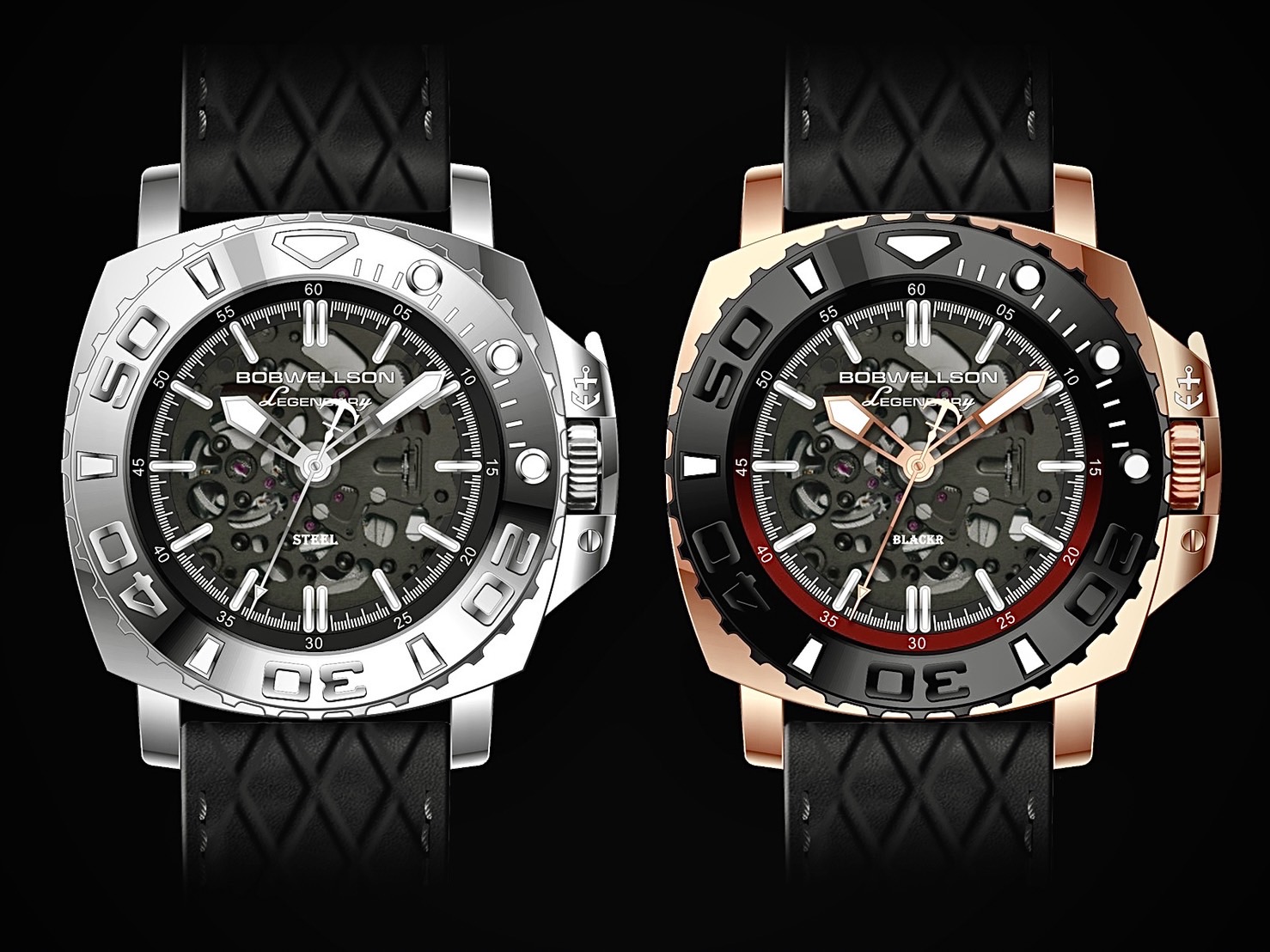 Stainless Steel 316L case, size 44 mm, Mirror polish mix Brush finishing, Sapphire glass front and back on both sides, 120 Click rotating bezel, illuminated by C3 & BGW9 by Swiss🇨🇭super-luminova®, housing with dualscrew™ system. Is a closure consisting of a screw system for both the crown and the back case? Advanced techniques of fine watchmaking, and 200-meter diving, complete with the brand's signature BobGuard™ crown. * New Signature leather strap, only for this brand and this model, Bob's Diamond Monogram™ ♦️▪️♦️▪️♦️ Black genuine leather strap, black thread, size 24 mm buckle 22 mm, every watch comes with a serial number inside the glass of the back cover. and can ask to see and reserve beautiful numbers There is an additional cost from +1000 to x5 times, VIP only.
Additional explanation
This version is a system Skeleton💀 shows off the mechanism as the brand new Caliber-72, must be assembled by hand. in Japan And a special factory painted ruthenium gray to show off the beautiful mechanism. every detail And finished the masterpiece. We quoted it in our watch. Beautiful, outstanding, and elegant, Bobwellson does his best to impress all fans. gradually weave everything into a masterpiece sculpture for you to possess and fascinate all of them are limited to only 99 pieces, only the real legend can possess our legend
⚓⚓ L E G E N D A R Y ⚓ ⚓
Key specifications:
Up to 41+ hours of power reserve
BPH: 21600
Accuracy: -20~+40 sec per day
Hack-second or stop-second feature allows you to set the time precisely
24 Jewels
Function: 3 Hands, Automatic and hand winding
Diameter: 27.40 mm
ORDER NOW LAST ONE
READY to ship now & free express shipping, it's the best value. and the quantity is limited
Make a reservation at the touch of a button.